You want to treat your skin to a good moisturizing product, but the magazines are recommending a $74 cream that doesn't fit your rigid budget. The drug store has several brands, but you're not sure which to try and whether you'll like it. Probably one of the best products on the market is Pond's Rejuveness.
Moisturizers are critical for dry skin, but don't think they aren't a necessary part of every beauty regimen. To preserve this important external organ, you need to keep it clean and slightly moist. Moisture is the best way to defend against premature wrinkles and plump up the ones you may already have.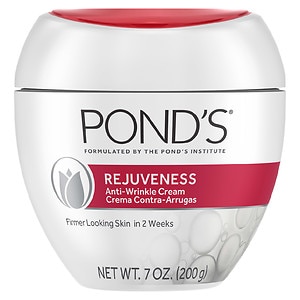 I had been using Pond's successfully for several years and was happy with the texture, scent, and overall protection it gives. When I saw their night-time anti-wrinkle cream, I decided to give it a whirl.
Rejuveness is rich and creamy, and it feels great on my skin. In fact, I like it so much I often use it as a mask after exfoliating, which feels fantastic if you have time for a warm, relaxing bath. Target often offers a sample size for under $2 so you can try it out before investing $10 in the larger size. Save yourself that $64 the magazine are paid to push. Try it out!